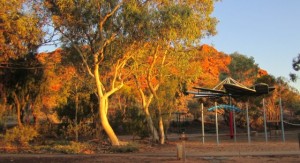 Alice Springs Town Council engaged ROSS Planning to undertake a master plan of its park network that considers existing supply and demand. A major focus of the Plan was to understand and accommodate local influences such as climate, geography, social culture and political capacity.
The Plan was developed giving thought to what we learnt about the town's parks, our understanding of local people's preferences to different park types and functions, council's (and the community's) capacity to deliver the infrastructure and the Territory Government's preferences and guidelines for planning for public parks.
The outcomes of this project included determining the supply of open space in terms of quantity and location, assessing the current and future need, or demand for various open space types, prior to making recommendations in regard to land demand, park design and park upgrades.
Ultimately, the Plan provided Council with steps to create an exciting and enticing park network that allows for an equitable and sustainable provision of open space in Alice Springs.